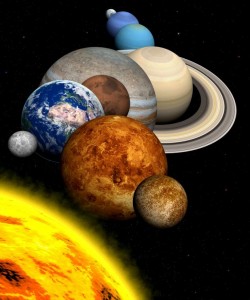 Although the Sun Signs are the more-well known, in astrology, planets are more significant: they are active principles in the psyche.
The Moon and Sun are not planets as we understand the term to mean today. But in ancient times, when all the lights in the sky were considered "stars," all the lights that moved got the majority of the attention. Planets to the ancients were the wandering stars. Planet is derived from the Greek planete, which means wanderer.
Planets represent drives to do and accomplish things. A planet's sign tells you the style in which a planet appears to operate. The house placement of a planet tells you the department of life that the planet must learn to navigate. The aspects between planets reveals something about their relationships with each other.
Together, they provide a rich model for the psyche.
So you may know you're Sun Sign but do you know in which of the 12 houses it was placed when you were born? It makes a difference to your story. And do you know the different signs of all the planets? And their house placements? And all the aspects between those planets? All reveal some hidden beautiful dimension of yourself.
Get the complete story about what the cosmos had to say about you when you were born by having an All About You reading.